Develop Accountable Leaders at All Levels
The Leadership Contract™ One-Day Program
THE CHALLENGE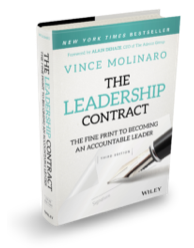 Organizations are investing more in leadership development than ever before, however there is a leadership gap relating to accountability — between the expectations of leadership and the reality with how they are performing. We have the tools to help your organization close the gap.
Recent research conducted by Lee Hecht Harrison revealed that 72% of organizations are in agreement, that leadership accountability is a key business concern that needs attention. The research also revealed that less than half - only 37% of companies feel happy with the level of accountability their leaders are showing.
OUR SOLUTION
LHH's award-winning* one-day The Leadership Contract™ Program allows leaders to grasp what being an accountable leader entails, and how to take ownership - in order to steer their organizations to success. The bestselling book 'The Leadership Contract' (by Vince Molinaro), is the basis of the Program which introduces compelling ideas, approaches and methods that help illuminate how leaders see their roles and empowers them to take greater personal accountability. This program reaches across all leaders at all levels from the front-line manager to the C-Suite.
LEARNING OBJECTIVES
The Leadership Contract™ Program will help leaders:
Commit to their leadership obligations to customers, employees, and stakeholders
Undertake the tough work of leadership that will impact the organization propelling it forward
Cultivate a tenacious and strong leadership culture by strengthening relationships between leaders within the organization
Formulate a personal leadership accountability plan of action
"The Leadership Contract™ helps leaders understand the fine print of what it means to be a truly accountable leader. It begins with the simple idea that anytime anyone takes on a leadership role they are signing up for something significant."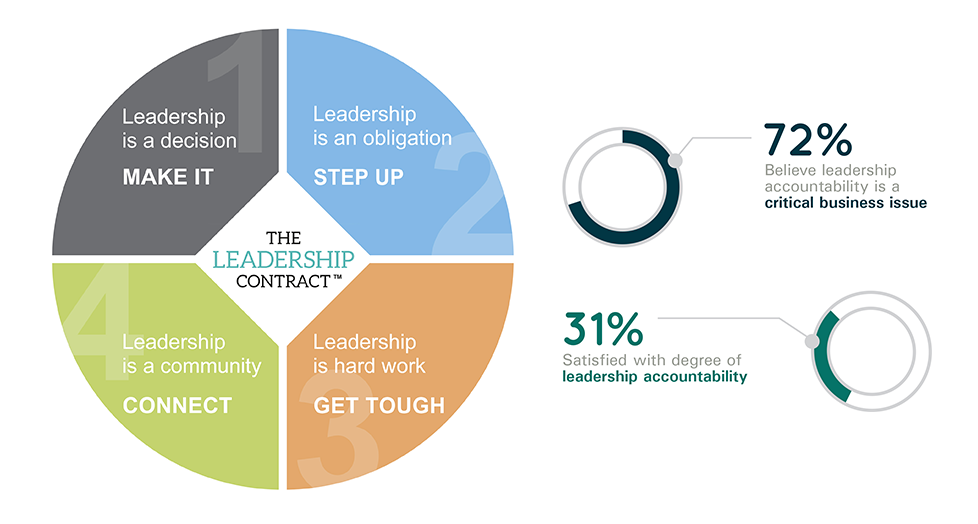 PROGRAM IMPACT
The Leadership Contract™ Program delivers impact:
'95% of leaders commit to being more accountable leaders'
'93% of leaders state they are clear on how to step up to their leadership obligations'
'97% of leaders are determined to tackle the hard work of leadership in their roles'
'98% of leaders will work to build a stronger leadership culture in their organizations'
"Our global leadership team has begun learning how to put The Leadership Contract into action, and we are all seeing the results." Ricardo Quintero, President, Movado Group Inc.
"The Leadership Contract Program helps you understand that choosing to lead is both a decision and a commitment. We have taken all of our leaders through the program and use it as a cornerstone for our new leader development program." Larry Fultz, EVP and Chief Operating Officer for The Limited